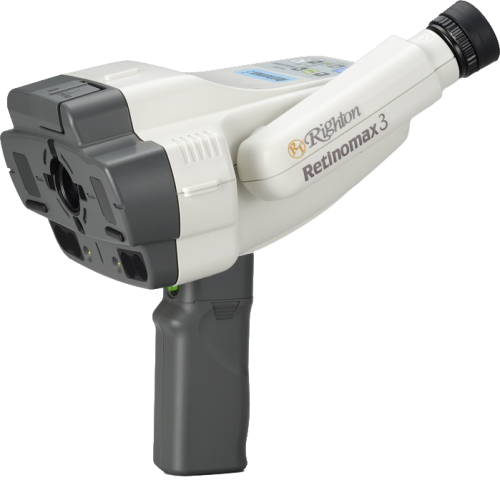 Clinical Benefits
Compact, light weight wireless handheld Refractometer With just 969g (equipped with battery), it is 11.1% lighter than previous Retinomax 2. The center of gravity is design in the grip handle make it even much comfortable to hold.
Wide measurement range and high accuracy Not only best used on infant or small children, but with the wide measurement range on par with table type Ref, it is suitable on most of the usage with high performance and accuracy result.
Speedy Measurement. Display. Printout Fast measurement which takes only 0.14 sec. Pupil size will automatically measure, display and print out. Measurement is made five times, if the data is unstable, system will automatically retry for 3 times to achieve the most stable result.
Longer usage time With the adoption of a lithium ion battery, continuous operational time has been extended to approximately 80 minutes. The station has an AC adapter, allowing it to be connected to the main body with a DC cord (optional) to enable extended continuous operation.
Fixation intensity is automatically lowered for small pupil (less than 3mm) The minimum pupil measurement size in Auto Quick mode is 2.3 mm. If a pupil is less than 3.0 mm, the fixation target intensity will automatically reduced by approximately 45% to avoid pupil contraction.
Exclusive Features
Retinomax Series, the world's leading handheld Ref and Refract Keratometer, delivers wide measurement range on par with table type Ref, now boasts greater mobility, stability and accuracy. The Retinomax 3 series is widely used as a global standard device for pediatric, screening, medical care in remote areas, disaster area and wide range of ophthalmic scene.
Current informatical society, eye fatigue, one of the typical modern diseases cause by eye accommodation issue is now easily discover by Speedy-"i" series during screening basis. Accommodative Micro Fluctuation result will show in graph for easy reading, plus opacity detection function makes Speedy-"i" the world first All-in-one Refractometer.