Optopol REVO COPERNICUS 80
Clinical Benefits
Fast and easy scanning, saves time
Very high quality images, anterior and posterior
Simple to use
Voice guidance for patient in many languages
Very suitable for optician shops thanks to the ease of use and cost effective performance.
Angio module as an option
Exclusive Features
Biometry and Topography as an option, as the only OCT on the market. Bimotery_Article_OCT_B.pdf(1.3MB)
Can be translated into your local language e.g. Voice guidance in Swedish and many more languages.
80.000 A-scans
New Model 80 000 A-scan/seconds
The new REVO COPERNICUS model with  80 000 A-scan/sec scanning speed reduce scan time and brings benefits for both clinicians and patients by reducing errors often caused by involuntary eye movements. Higher sensitivity spectrometer allows to visualize finer details.
OCT made simple as never before
Position the patient and press the START button to acquire examinations of both eyes. The Revo, using vocal messages, guides the patient through the process, increasing comfort and reducing patient chair time. Short scanning time ensures less fatigue for the patient. Creating customized scanning protocols of different diagnostic scenarios speed's up the workflow.
A perfect fit for every practice.
With a small system footprint and access for both operator and patient only necessary from one side, space saving is further enhanced. In addition, connection by a single cable allows the installation of REVO into the smallest of examination room spaces. Revo's variety of examination and analysis tools enables it to effortlessly function as a screening or advanced diagnostic device.
High quality of OCT image
The noise reduction technology provides the finest details proven to be important for early disease detection.
Technical Specifications
Technology
Spectral Domain OCT
Scanning speed
80 0001 / 27 000 measurements per second
Light Source
SLED, Wavelength 830nm
Bandwidth
50 nm half bandwidth
Axial resolution
5 μm in tissue
~2,6 μm digital
Transverse Resolution
12 μm, typical 18 μm
Overall scan depth
2.4 mm
Scan range
Posterior 5-12 mm, Anterior 3-16mm
Scan types
3D, Radial, B-scan, Raster, Cross
Fundus image
Live Fundus Reconstruction
Alignment method
Fully automatic, Automatic
Retina analysis
Retina thickness, Inner retinal thickness, Outer retinal thickness,
RNFL+GCL+IPL thickness, GCL+IPL thickness, RNFL thickness,
RPE deformation, IS/OS thickness
Angiography OCT*

Angiography mosaic*

Superficial plexus, Deep Plexus, Outer Retina, Choriocapilaries,
Depth Coded, Custom, Enface, Thickness map
Acquistion method: Auto, Manual
Mosaic modes: 10×6 mm, manual up to 12 images
Glaucoma analysis
RNFL, ONH morphology, DDLS, Ganglion analysis as RNFL+GCL+IP and GCL+IPL, OU and Hemisphere asymmetry
Anterior
Pachymetry map, Epithelium map, LASIK flap assesment,
Angle Assessment, AIOP, AOD 500/750, TISA 500/750
Biometry OCT*
AL, CCT, ACD, LT
Connectivity
DICOM Storage SCU, DICOM MWL SCU, CMDL, Networking
Anterior Wide Scan
Angle to Angle view, Adapter required
Min.  pupil size
3 mm
Focus adjustment range
-25D to +25D
Dimensions (WxDxH)
382 x 549 × 469 mm
Weight
23 kg
Fixation target
OLED display (The target shape and position can be changed),
External fixation arm
Power supply
110-230 V,  60/50 Hz
Power consumption
115 – 140 VA
*optional software module
Click to enlarge images below:
OCT Angiography
This module allows visualization of the retinal microvasculature. Angiography SOCT is a non-invasive, dye-free technique providing 3D image of retinal blood circulation.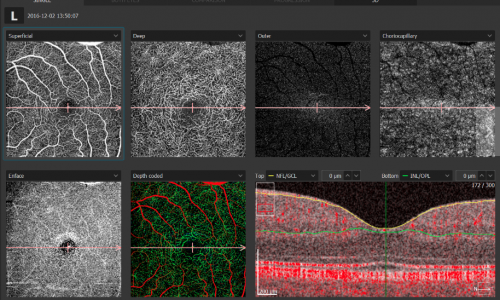 ANGIO MOSAIC*
The Angiography mosaic delivers high-detailed images over large field of the retina.
Advanced tab provides: view of any vascular layers, enface view of vascular layers, depth coded and thickness map. Mosaic modes: 10×6 mm, 12×5 mm, 7×7 mm, 10×10 mm and Manual (up to 12 images)
GLAUCOMA
Comprehensive glaucoma analysis tools for quantification of Optic Nerve Head, Retina Nerve Fiber Layer, DDLS,  Ganglion layer and Asymmetry.
NETWORKING
A proficient networking solution increases productivity and an enhanced patient experience. It allows you to view and manage multiple examinations from review stations in your practice. Effortlessly helping to facilitate patient education by allowing you to interactively show examination results to patients. Every practice will have different requirements which we can provide by tailoring a bespoke service. There is no additional charge for the server module.
DICOM
Store, exchange, and transmit results through DICOM gateway to the hospital network.