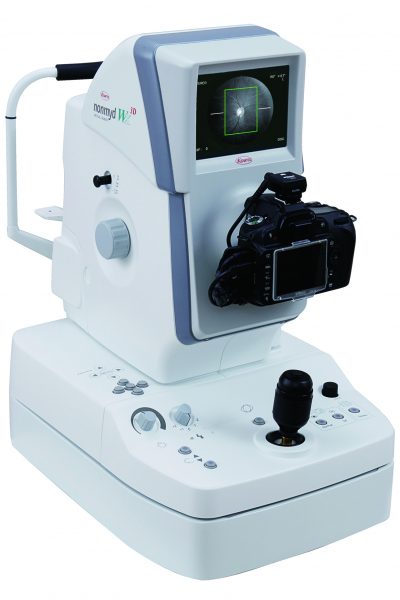 Clinical Benefits
The nonmyd WX3D is a versatile retinal camera offering both 2D and superior stereo 3D images whilst maintaining Kowa's values of high quality imaging and ease of use.
Simultaneous stereoscopic 3D images
ONH and macula imaging in one click
Small pupil mode
9 point internal fixation for auto mosaic
3D binocular view of the optic cup & disc
Confidently diagnose glaucoma patients
Fast identification of disease progression with Kowa's VK-2 WX3D analysis software
Exclusive Features
CE cleared
Approved for digital photography use in Diabetic Eye Screening by the NHS Diabetic Eye Screening Programme
2D/3D Non-mydriatic Retinal camera/ 3D Analysis System
A new concept retinal camera with "SSP", Simultaneous Steroscopic Photography
Description
High quality retinal imaging
An advanced retinal camera that provides both standard 2D and stereo 3D images whilst maintaining the Kowa traditions of high quality and ease of use. The exclusive optical design combined with the high resolution Nikon® digital camera back.
Incredibly detailed stereoscopic 3D images delivered through the 3D mode will help you diagnose your patients. The nonmyd WX3D allows images of the ONH and macula to be viewed in 3D, providing superior stereo images to support diagnosis of sight threatening conditions such as glaucoma.
In 2D mode the camera operates like a standard 45° non-mydriatic retinal camera. The small pupil option enables photography with a pupil size above ø3.5mm. Mosaic photography is a further option using the 9-point fixation mode.
Easy operation
Easy, single handed operation with a minimal amount of buttons allowing for quick and easy selection.
With just one click you are able to change the photography mode –3D, 2D or SP.
Diabetic screening approval
Approved for digital photography use in Diabetic Eye Screening by the NHS Diabetic Eye Screening Programme in the UK.